The Western Ghats' naturally steep slopes are home to the lovely hill town of Kamshet. The area is well-known for a wide range of adventurous pursuits and is also referred to as Maharashtra's Paragliding Paradise. With a group of qualified pilots and flying enthusiasts, reserve this paragliding activity in Kamshet and soar through the air while observing the mountains and plateaus. With this heart-pounding adventure, see the Sahyadri Ranges from above and experience the fresh air.
Kamshet Paragliding Adventures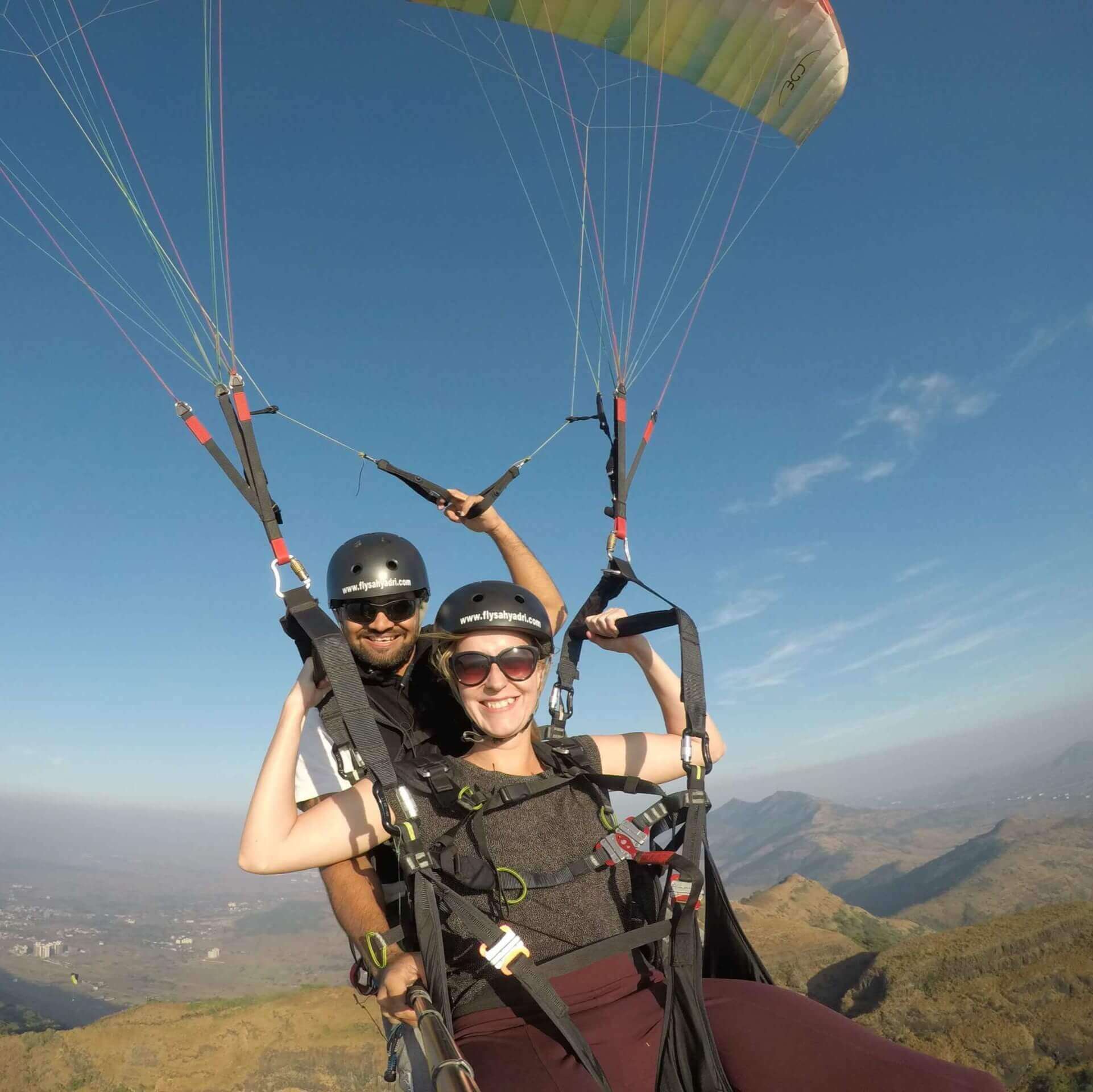 We are a team of experienced pilots that have received their paragliding pilot certification from the prestigious Royal Society of Paragliding UK.
We typically just employ the most basic paragliding equipment that complies with Indian norms and quality standards for human safety.
We usually use best practices' to ensure the client's safety. and to give up their greatest airborne expertise. In order for you to record the best experience in confidence, we also provide selfie and video recording possibilities.
Beautiful highland town Kamshet is well-known for paragliding. The magnificent Sahyadri Mountains encircle Kamshet, providing some of the most breathtaking views. Because of its smooth take-off and landing places, it is also regarded as one of India's top paragliding locations. However, the desire to fly like a bird is still burning within us. For those who seek pleasure in adventurous activities and who wish to experience an adrenaline rush, Kamshet paragliding near Mumbai is a great way to fulfill your flying wish.
Our goal is to hand on to the client our finest knowledge while providing security and safety. We start with the best service for a low price of just Rs. 3000.
Kamshet Paragliding Packages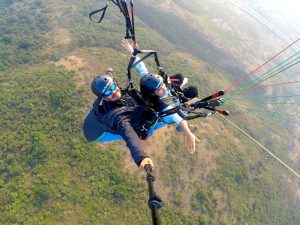 Amazing Joyride Paragliding
Paragliding the Joy Drive around our Instructor will give you a steady and quiet trip.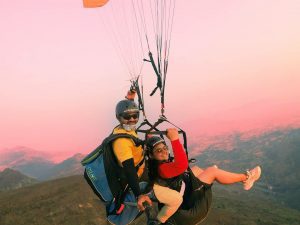 Exotic Instructional Paragliding
Paragliding instructional joyride  is for people who need to encounter lightweight flyer control alone, with the assistance of the pilot,  and with all security safeguards.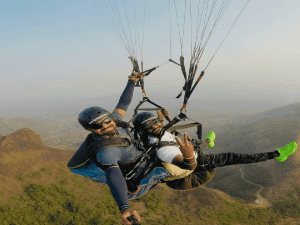 Thrilling Acro Tandem Paragliding
Paragliding Acro Tandem you'll get an stirring and stunning experience. You'll get the experience of G4 in the air from an alternate gymnastic move.
Kamshet Paragliding Adventures
Kamshet Paragliding adventure is found amongst the Sahyadri Mountains, that means that almost all take-off sites need a bit hiking. as a result of Bharat could be a country with naturally lofty hills, furthermore as 2 vast mountain ranges—the Western Ghats and Himalayas—the land is ideal for paragliding. 
For those living or visiting the western reaches of Bharat, Kamshet and close destinations are the perfect spots of paragliding. Kamshet Paragliding adventure is or so 102 kilometer from urban center, forty eight kilometer from Pune, and eighteen kilometer from Lonavala
Why paragliding at kamshet?
Kamshet Paragliding Adventure is that the best place for paragliding
India is understood for its high mountain ranges, mountains, valleys, Himalayas, and also the Western Ghats region and is appropriate for paragliding. that's why the tandem bicycle paragliding in Kamshet near mumbai and pune space is one in every of the most effective places for paragliding in India. Kamshet is a hundred and ten kilometre from Bombay and forty five kilometre from Pune, and eighteen kilometre from Lonavla. paragliding in Kamshet near mumbai and pune is found in western ghats, therefore the close space could be a high mountain space, that's why typically you've got to require a brief walk to travel to several take-off sites for paragliding. The climate here is hot semi-arid, and also the average temperature move between 20°C to 26°C. 
Kamshet Paragliding Adventure Heights
There area unit four sites for Kamshet Paragliding Adventure. The take-off purpose of tower hill is 900m higher than water level, i.e. 230 m higher than the bottom. Also, the take-off of Shelar hill is at a distance of 720m higher than water level. The favorable surroundings for paragliding at Kamshet is that the solely reason why? Kamshet has become the "best place for paragliding in Kamshet near mumbai and pune in India". The paraglider is intended to be tight, however when kicking off at paragliding in Kamshet near mumbai and pune lonavala, we are able to go higher within the sky by increasing the altitude. Otherwise, elsewhere when take-off, we tend to simply come back to the bottom from the air and land on the bottom, and this is often solely potential thanks to the wind conditions here.
While paragliding in Kamshet near mumbai and pune, we are able to expertise of these things like mountains, valleys, rivers, streams, forts, big dams, green gar, thick bushes. And yes,you can expertise the haunting moment of observation the sunset whereas flying within the sky at paragliding in Kamshet near mumbai and pune.
Best time for Kamshet Paraglidings Adventures
The monsoon lasts from June to Oct, so paragliding kamshet Pune lasts from mid-Oct to the last week of May. Nov dec months are known as the pink-cold months. From Oct to Jan, the air flows from east to west. It is only possible to fly early in the morning, as the flyable wind conditions required for paragliding are available approx from 7 am to 1:30 pm in winter. The air conditions between Dec and Jan are smooth thermic so it is possible to take good height while flying. During these months, sometimes flying is done all day long. From Feb to May the wind blows from west to east, the air coming from the sea is cold and sometimes the wind speed is also seen to be high. In summer, the flyable wind blows after 0:03 pm, so in summer, evening flying takes place, from around 0:04 pm to sunset. The joy of soaring in the air at such a time is something else.
How much does Kamshet Paragliding Adventures Cost?
Paragliding at kamshet value starts at simply Rs.3000/- per person. There square measure 3 styles of joyrides:
Bliss Joyride
Instructional Joyride
Acro Tendom
Each ride have totally different specification and value.
Paragliding kamshet Pune is thirstily anticipating you to administer you this expertise of paragliding. tandem bicycle paragliding in kamshet are the simplest trip of your life, associate degreed on your manner back from paragliding at kamshet you may take with you an memorable moment which will stick with you for the remainder of your life.